Hacienda Playa Feliz A27, East Cape, La Ribera, Baja California Sur, Mexico
Contact
Represented by
Morelos y Obregon Colonia Centro
San José Del Cabo
,
Baja California Sur
,
23400
Mexico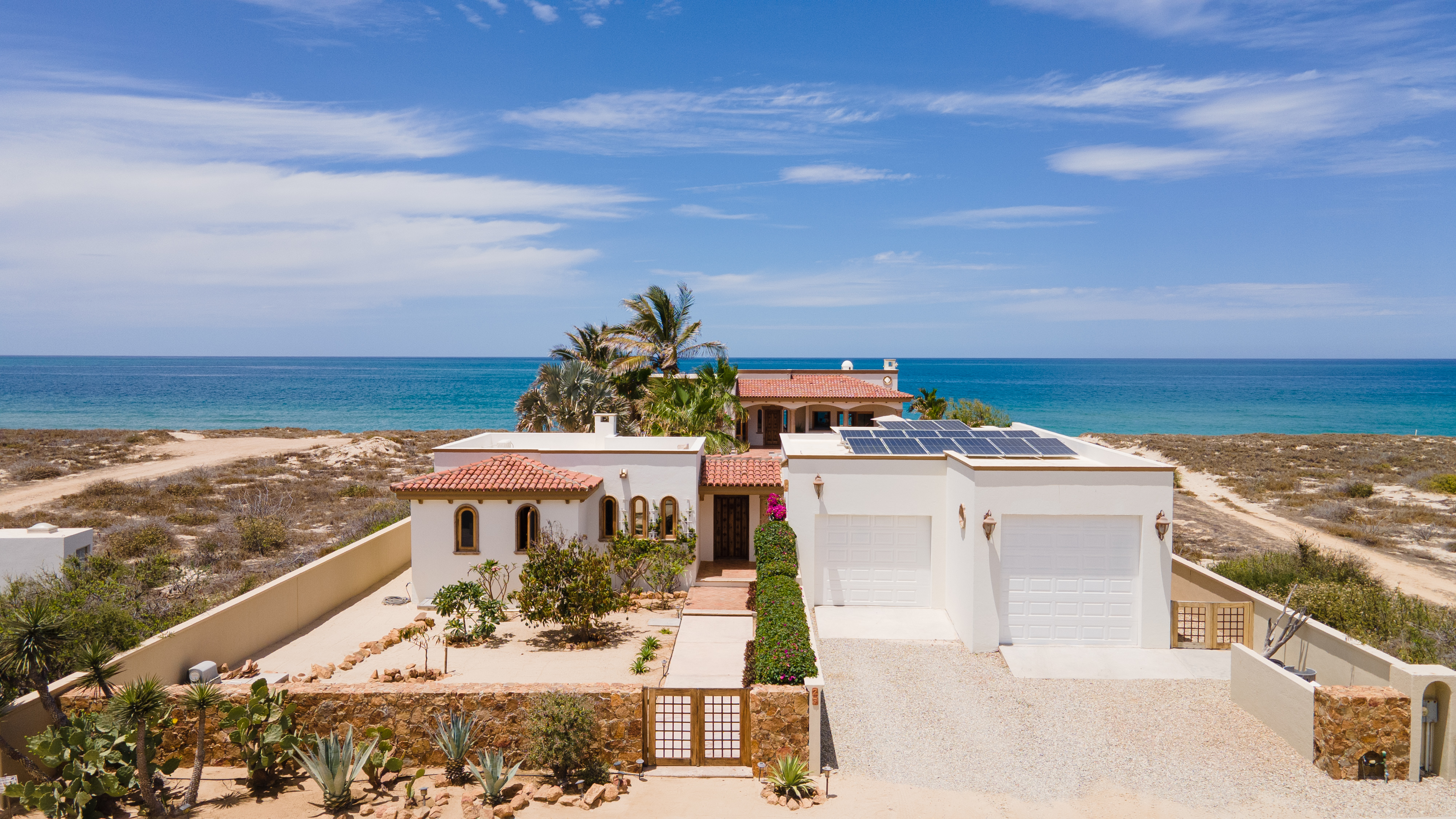 HACIENDA PLAYA FELIZ
$1,849,000
AMERICAN DOLLAR
GALLERY
Photos and videos from Hacienda Playa Feliz
ABOUT HACIENDA PLAYA FELIZ A27, EAST CAPE, LA RIBERA, BAJA CALIFORNIA SUR, MEXICO
This home was constructed to provide a great entertaining experience and offers the potential for effortless expansion to accommodate rental opportunities. Nestled along the ocean shore, it effortlessly captures the mesmerizing beauty and ever-changing moods of the sea. The timeless hacienda architecture seamlessly integrates the charm of old-world Spanish design with the modern comforts essential for a comfortable beachside lifestyle. Meticulous attention has been given to every detail, including top-of-the-line amenities such as a commercial ice maker, a rejuvenating spa, solar panels that power the entire house, a substantial 10,000-liter water cistern, a comprehensive whole-house water filtration system, an inviting indoor/outdoor bar, and a gourmet kitchen equipped with two dishwashers. The ingeniously designed ocean terrace, devoid of obstructive pillars, ensures unobstructed panoramic views of the ocean. Additionally, the home boasts a captivating wood/gas fireplace, adding an element of warmth and charm.
A noteworthy feature of this property is the fully equipped standalone casita, discreetly separated from the main house, offering the utmost privacy for its occupants. Throughout the years, this home has consistently served as a cherished gathering place for neighborhood celebrations and special occasions. Now, the opportunity awaits for you to create your own treasured memories in this remarkable residence.
Furthermore, it is essential not to overlook the renowned reputation of LPE beach for its exceptional shore fishing opportunities. The surrounding waters offer an abundance of delectable fish species, including Dorado, Yellowfin Tuna, Snapper, and Sierra, all conveniently accessible from the shore. Equally deserving of mention is LPE's global acclaim for the unparalleled Roosterfish fishing experience it provides. Residents of this area also relish the perfect conditions for an array of beach activities, such as swimming, stand-up paddleboarding (SUP), kayaking, and leisurely beachcombing along the immaculate shoreline.
REPRESENTED BY
Morelos y Obregon Colonia Centro
San José Del Cabo
,
Baja California Sur
,
23400
Mexico
Property ID: PENHD5
Represented by
Morelos y Obregon Colonia Centro
San José Del Cabo
,
Baja California Sur
,
23400
Mexico
AMENITIES
Ocean
Gated Community
Guest House
Patio
Terrace / Outdoor Space
Golfcart Garage
Guard Gated
Wet Bar
Breakfast Bar
Ocean Front
Waterfront
Hot Tub
Casita
Mountain
Ocean
Scenic