The Cove Puerto Mexia, La Paz, Baja California Sur, Mexico
Contact
Represented by
Morelos y Obregon Colonia Centro
San José Del Cabo
,
Baja California Sur
,
23400
Mexico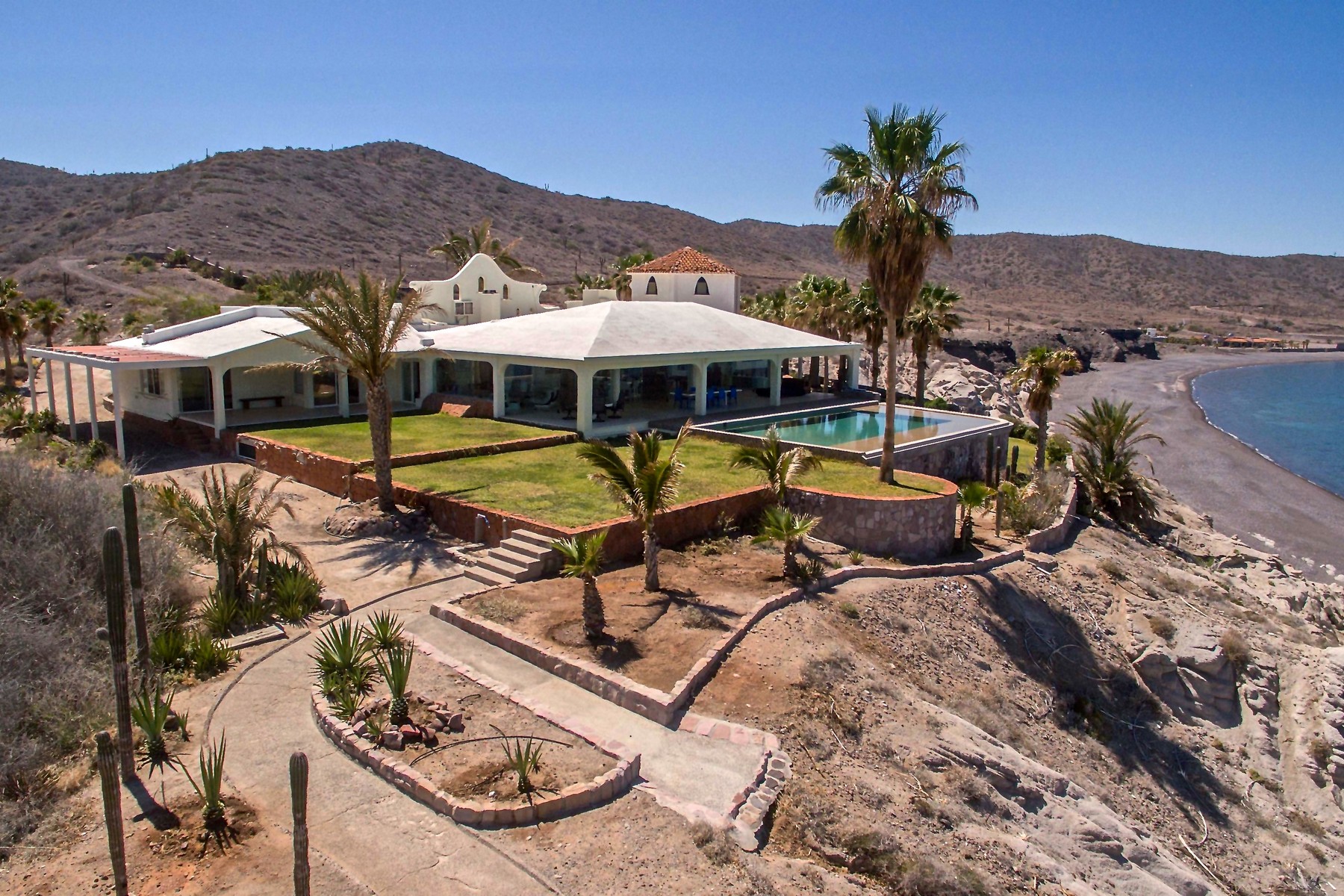 THE COVE
$7,500,000
AMERICAN DOLLAR
18643.09 ft2

CONSTRUCTION
GALLERY
Photos and videos from The Cove
ABOUT THE COVE PUERTO MEXIA, LA PAZ, BAJA CALIFORNIA SUR, MEXICO
Off-grid living in the remote beauty of the Sea of Cortez.
This unique 114.6 acre estate sits on a bluff perched over a secluded, picture perfect cove surrounded by white sand beaches along the Sea of Cortez. This property, that includes a three-bedroom home, two two-bedroom beach homes, and more, has a dominating view of the islands of Cerralvo and Espiritu Santo. With over three hundred days a year of sun, you will be greeted almost daily by dolphins, manta rays whales, and fish. This is an ideal property for nature lovers and outdoor enthusiasts alike to enjoy hiking, swimming, snorkeling, fishing, paddle boarding, kite surfing and a myriad of other options.
The Cove at La Paz has multiple structures on site. A lovely 7,000 sq. ft. Three-bedroom home with a stunning fresh water swimming pool, that sits on a bluff above the completely secluded 300 meter sandy beach cove where you will find two appealing guest houses sitting on the white sandy beach, two large garages, a fully equipped carpenter and machine workshop, a boat garage and 2 live-in caretaker homes. This fascinating property is prepared to withstand an extremely rare category 4 hurricane and is equipped with a D-5 tractor and a Kamer backhoe excavator, just in case.
This property is completely self-sufficient. Water is provided by a solar operated desalination plant which was created by the seller, who is an inventor. He also designed 2 water treatment plants. Together, they deliver over 4,000 gallons of water a day, enough to irrigate the 200 trees and plants as well as the 2 acres of lawn and the 3 vegetable gardens. The property also has energy collection capabilities by way of 50 KW (p) PV panels, stored in 432 L16 batteries.
This trophy asset is an unprecedented opportunity for anyone who has an interest in embracing a quiet, idyllic yet luxurious lifestyle. It is also an ideal opportunity for a potential developer to create an amazing project with endless business opportunities.
REPRESENTED BY
Morelos y Obregon Colonia Centro
San José Del Cabo
,
Baja California Sur
,
23400
Mexico
Property ID: RNZ5BY
Represented by
Morelos y Obregon Colonia Centro
San José Del Cabo
,
Baja California Sur
,
23400
Mexico
AMENITIES
Caretaker House
Estate Ranch
Fishing Ranch
Hobby Farm
Investment Ranch
Live Water
Recreational Ranch
Silo
Sporting Ranch
Mountain
Bay
Gulf
Barn/Stable
Guest House
Helipad
Underground Lawn Sprinkler
Patio
Terrace / Outdoor Space
Marble Flooring
Golfcart Garage
Eco-Friendly
Mountain
Waterfront
Gulf
Ocean Front
Waterfront
Casita
Staff Quarters
Bay
Ocean